http://www.smh.com.au/entertainment/music/perth-divinyls-tribute-singer-diagnosed-with-multiple-sclerosis-20141106-11hi52.html#ixzz3IGfr8dHd
Perth Divinyls tribute singer diagnosed with multiple sclerosis
Candice Barnes
---
Donna Greene was in her element, rocking out on stage at a Divinyls tribute act. A photographer snapped a picture as the band hit a crescendo in the song, but at that moment, Mrs Greene knew something was very wrong.
"I felt my leg roll out from under me, but as I went to lean back, [bass player] Pete rolled in and I smacked into his back so he unwittingly propped me up," she said.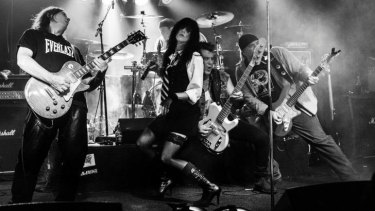 "That photo to me is the moment that I knew it was happening, that I probably had multiple sclerosis."
The concert itself was held to honour Divinyls vocalist Chrissy Amphlett, who had died of breast cancer few weeks earlier, in April 2013. Amphlett herself had lived with multiple sclerosis for many years.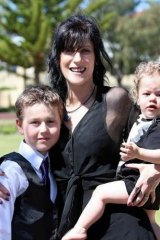 During rehearsals for the show, Ms Greene said she suddenly lost part of her vision. An ophthalmologist examined her and suspected the cause was optic neuritis, a condition associated with multiple sclerosis. But there had been other symptoms too.
"I knew there was something happening, there was some vagueness about me, feeling the pins and needles, loss of focus and the fatigue but I was denying it to myself," Mrs Greene said.
"I was getting weaker and my legs were feeling numb, my feet particularly and one of my hands."
The singer and graphic designer, who had been performing in tribute acts for several years, was sent for medical scans and continued preparing for the show in Amphlett's honour.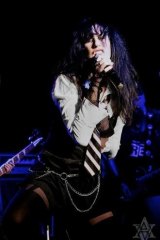 "It was June 2 that we did the show, and during that show my vision was pretty awful, quite blurry," Mrs Greene said.
"When I went to get up on stage my legs were weak, the fatigue kicked in."
Two days later, experts confirmed what was already suspected – she had optic neuritis. Multiple sclerosis was diagnosed a few weeks later. The illness affects the nervous system and can impair all sorts of bodily functions, including vision.
"In most people [optic neuritis] will last between three days to a few weeks, but for me it hasn't cleared up. Now I'm 15 months along," Mrs Greene said.
"The neurologists said after two years they might be able to tell if there's any long term damage. It's quite rare to have long term damage, but that's the way it is for me."
"I still need [husband] Graham to care for me daily, I can't see enough to drive, and I need help around the home sometimes."
Mrs Greene, along with her husband and a bevy of supporters, has now turned her attention to finding a cure for the illness the best way she knows how – by rocking out on stage.
On Saturday, she will be among the performers at the Rock For MS concert at the Charles Hotel.
"Last year we raised $8500 and we had it filtered through to the Bunbury outreach where we helped supply a brand new set of gym equipment and three wheelchairs to help people with mobility," she said.
"We're hoping that this year, we'll be able to beat last year's tally and help more people in the process."
As well as volunteering her talents at the fundraiser, Mrs Greene said music has helped her manage her condition.
"This year I've been fortunate to be a little stronger. I find that music is a great healer, it helps me reconnect with my body," she said.
"As well as the cognitive side, constantly testing my mind to remember lyric and arrangement is a really great tool for cognitive therapy I've found."